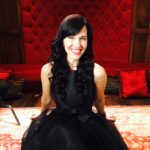 "I see God's wisdom displayed all throughout creation, and I believe that as we experience creation it is a way that we can better experience God. As an A Rocha Artist Partner, I enjoy collaborating with a faith-based organization that encourages people to steward and savor this majestic planet."
Kellie is a singer, songwriter, wife, and mom. A former widow, Kellie has lived through tragedy and found hope and joy on the other side. Her music draws from real-life stories of beauty, heartache, hope and the celebration of life.
The Thank You Project, a short film featuring Kellie's story of gratitude after tragedy, has attracted more than 150 million views and has been featured on The TODAY Show, The Huffington Post, and Cosmopolitan among other national and international media outlets. Kellie has performed in Iraq, Israel, China and across the U.S., offering music that engages the soul in all of its beauty and vulnerability. She has sung and spoken alongside Tim Keller, Christine Caine, Marianne Williamson, Andrew Peterson and Lynne Hybels among other respected leaders and musicians.
Kellie released Leave The Light On in 2013 and Mandarin Lights (recorded in Mandarin) in 2014. Wild Love, (2017) offers 12 piano driven songs that blend powerful, energetic pop with highly emotive lyrics. Kellie's newest album, All Shall Be Well, offers a refreshing splash of 25 classic hymns featuring ukulele and vocals. With this album and tour Kellie desires to use her music as a reminder that no matter what life brings, love will have the last word.