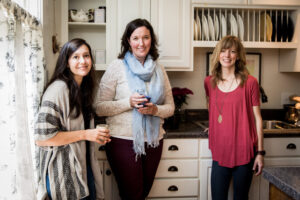 Rain for Roots is a collective group of musicians and songwriters who write singable Scripture songs for kids and grown ups alike. While the albums have featured other collaborators and guest musicians since 2012, Rain for Roots primarily includes four members, Sandra McCracken, Flo Paris Oakes, Katy Hutson Bowser and Alice Smith.
Produced by Sandra McCracken, Rain For Roots joined with children's author Sally Lloyd-Jones for the songs on their first release, "Big Stories For Little Ones" (2012) followed by a collection of songs about Jesus' parables called "The Kingdom Of Heaven Is Like This" (2014). In 2016, Rain For Roots released an Advent album called "Waiting Songs" (co-produced by Stephen Gause), and their latest 2020 release, "All Creatures" (produced by Seth Talley and Kenny Hutson). "All Creatures" is a collection of 11 new songs, derived from the poetry of the Psalms exploring how creation invites us all to pour forth the praise of God. It is a timely reminder of a mighty God who holds all things in his hand.
Learn more about Rain for Roots on their website.