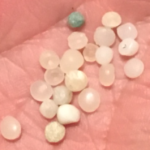 Nurdles are pre-production plastic pellets that pollute oceans, just like many other microplastics.  They float on the surface and eventually get washed onto beaches around the world. A Rocha USA is studying these microplastics, and we want your help!  Join us and get trained as a citizen scientist to help care for creation. This event is great for church small groups, youth groups, and school classes.  
Note: we can make this a half-day event with educational instruction on microplastics pollution and faith in the morning, followed by a field trip and nurdle hunt at the nearest beach.  Contact us to get started planning your nurdle event!
FAQs:
What is a nurdle hunt?
A nurdle hunt is a study to see how many nurdles we can find in a specific amount of time.  We go to the beach, find our study site, and start a timer for 15 minutes. At the end of the 15 minutes, we record and collect all the nurdles for further analysis with a microscope.  We may do multiple 15-minute hunts at various locations on the beach.
When and where are the best times to do a nurdle hunt?
A Rocha is continuously conducting nurdle hunts, so we can get an idea of the trend of nurdle pollution throughout the year.  Any time is a great time. Likewise, we have a number of nurdle study sites along Brevard county, so there may be one close to you.  If not, we are happy to study a new area.
How big (or small) does our group need to be?
We can work with groups of most sizes, from 1 to about thirty.  Large groups >20 may need to be split up into different sections of the beach.
What should we bring?
Always remember your reusable water bottle, towel, and sunscreen! Depending on the weather, you may want to dress in layers or bring a bathing suit.