A Rocha USA has worked in Central Texas for years providing resources and educational programming in creation care to our partners while restoring the local watersheds and improving habitats for native species like the endangered Golden-cheeked Warbler, the Black-capped Vireo, and the Tobusch fishhook cactus.
We've recently expanded local initiatives and partnerships that focus our conservation and education efforts on two main areas:
Healthy Watersheds – Healthy Communities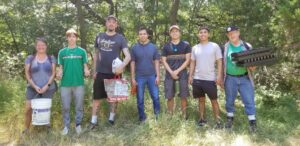 We work with local organizations and neighbors in Austin to keep watersheds healthy by improving or restoring riparian habitats. We believe this work of restoration brings communities together and promotes healing and reconciliation of people and the places where they live. 
Through our partnership with the Bull Creek Foundation, we are restoring and monitoring the health of the Stenis Tract Water Quality Protection Lands, located in the upper Bull Creek watershed in Northwest Austin. As a result of the collaboration we have:
Located and mapped hundreds of woody invasives plants. We plan to finish mapping the 57-acre tract by the end of 2022.

Created a management plan for the area mapped.

With the help of 29 amazing volunteers, we girdled 75 mature invasive trees, extracted 175 young trees or bushes with weed wrenches, and pulled out more than 350 invasive seedlings.
Picnics en el Arroyo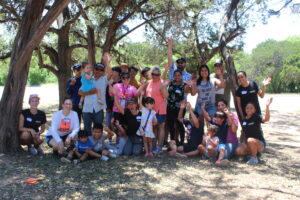 We facilitate access to local parks, state parks, private land, and waterways for the Hispanic community through environmental education and outdoor recreation. Our goal is to foster an appreciation for the local ecosystems and empower Hispanic families to enjoy and care for them. 
Picnics en el Arroyo is a series of outdoor events in Spanish that provide free and safe access to green spaces and quality environmental education in Spanish for Hispanic families. We host picnics in various city and state parks as well as on private land. Each picnic explores the local watershed and its biodiversity through recreational and educational activities. Picnics connect families with natural spaces and invite them to spend time outdoors to learn together about how to contribute to the health of the watersheds and the community. 
To learn more or sign up for a picnic go to our Events page or check out our Facebook page.
How you can get involved:
Participe de nuestros picnics en Español!
Volunteer to remove invasive plants in the Bull Creek Watershed
Volunteer for Picnics en el Arroyo
Contact Us
Are you interested in connecting with A Rocha USA in Central Texas?
Join us on Facebook or email texas@arocha.org to learn more about volunteering.