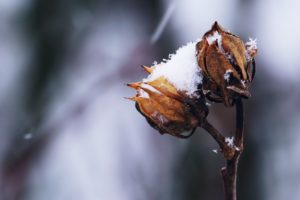 As fall turns to winter, the earth goes to sleep. Trees lose their leaves, annuals die, and perennials lay dormant. Last season's leaf litter covers the bare patches of soil in the garden bed, and we wait for spring to return.
Still, under the ice and snow and bitter cold, the ground is teeming with life.
Earthworms chew up leaves, plant parts, and food scraps, leaving nutrient-rich waste behind them.
Fungi make webs in the soil, breaking down nutrients to feed plants. They spread their fingers deep and wide, retrieving and supplying vital minerals for the delicate roots they interlace.
Bacteria, one billion of them in a tiny teaspoon of earth, feed on last season's decay, and the soil becomes darker and richer than before.
We wait with patient hope, and, under and behind what we can see, in our garden beds and compost piles, life is making its way. The things we presumed dead are becoming next spring's growth.
We gather on chilly days and in dark evenings to sing our advent songs, carrying the pain of waiting to the One who is coming to dwell with us. We trust that the seasons will take their course, that the deep quiet of winter will become the hope and delight of spring.
We wait with the earth—for newness, for life, for redemption.
And, even here, under our very feet, in the quiet, microscopic corners of our places, life teems.
Then, when the fullness of time has come, God sends forth his Son…
---
Bethany Winz is the Program Coordinator for Nashville A Rocha & A Rocha USA. She is a graduate of Trevecca Nazarene University's Social & Environmental Justice program. A lover of good tea, good books, and small things, she dreams of building her own tiny house one day.