By: Hannah Gillespie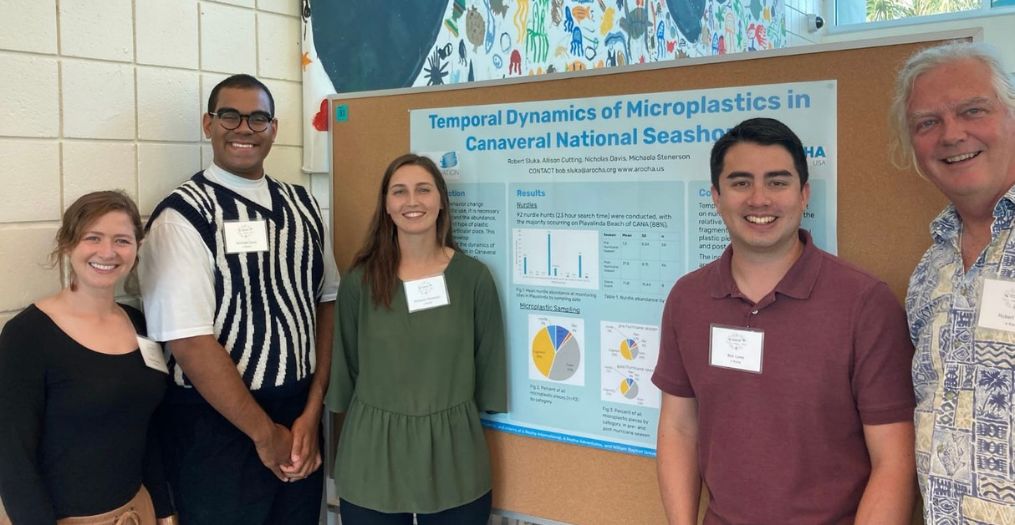 The Marine Conservation Internship Program based in Titusville, Florida, hosts interns in support of A Rocha USA's marine conservation work through a nine-month residency, with opportunities to visit other A Rocha projects in the USA and Canada. Meet our current Marine Conservation Interns below!
Allison Cutting
Allison grew up in Sequim, Washington. She earned a Bachelor of Science in Ecology from Seattle Pacific University and a Master of Science in Resources, Environment, and Sustainability from the University of British Columbia. She is trained in qualitative and quantitative research methods, ecological and ethnographic field work, and photography.
Allison first heard of A Rocha through her undergraduate ecology professor. After completing her studies, Allison felt the need for something different.
"While I greatly enjoyed my time in graduate school, I felt my worlds of faith and science were rather divided, reserved for the confines of church and academia respectively," says Allison. "The result of such external division was a lack of internal congruence, and a longing to bridge the gap. A day of volunteering at A Rocha Canada Brooksdale provided balm for the soul! I already had a passion for marine environments, so when I heard of A Rocha USA holding a marine internship, I was captivated, reached out to Bob Sluka, and a few months later found myself in Florida."
"No day is the same as a marine intern," Allison exclaims. "Though, they typically look like some combination of field work and computer work. Field work can take shape as a pre-planned outing to dive sites in accordance with the tides, or a spontaneous zip to monitor horseshoe crabs coming ashore to mate. Computer work can involve developing photographs, combing through data and literature, or drafting presentations and writings. Another big part of the day is doing life together and learning in community. We often have book discussions, documentary film nights, and end the days with a meal together."
Allison says she's really enjoyed the team's work with underwater photography, describing it as a key piece to all of their storytelling projects and an area of emphasis in their internship.
"I am rather comfortable with photography on land, but bringing a camera underwater was entirely new for me coming into the internship," states Allison. "It is a style of photography that I have been long intrigued with, yet intimidated by the refraction of light, color of change with depth, and composition of a moving animal while suspended in the water column. The opportunity to experiment with these variables, to take many bad photographs, try again, and take a few better ones—and to do so as part of a team—has made the challenges fun and exciting."
Along with expanding her photography skills, the marine internship has allowed Allison to improve her diving skills and learn ArcGIS Story Maps, a multimedia storytelling tool. With their internship ending in May, Allison aims to develop a career as a marine social ecologist.
"Through research and storytelling, I seek to examine the relationships between society and the sea, and to work towards sustaining the health of coastal communities and marine environments. I am interested in the nexus of conservation biology, fisheries governance, and behavior-centered design, with particular regard to food security and knowledge systems."
"It has been healing to be part of the A Rocha community," says Allison. "Holding conversations and explorations of faith and environmental work together has helped me restore hope, shed anxieties, and regain capacity to lean into the places I dwell and heed attention to my creaturely neighbors."
Nick Davis
Nick is from Pleasant Lake, Indiana. He graduated from Goshen College in May 2022 with a Bachelor's Degree in Environmental and Marine Sciences and a focus in Marine Biology. Before graduating, his college advisor brought to his attention A Rocha's marine program internship.
Nick's research interests, passions, and background are all marine related. He is also skilled in photography, education and teaching, aquariums, and animal husbandry. This is demonstrated through his popular Instagram account @nickdavis.00 where Nick frequently features his unique pets Cookie Dough, a pufferfish, and Lana, a chinchilla, along with other animals he meets in the field.
"Since starting the internship, every day is different," Nick states. "A day may be spent at the beach to monitor microplastics, we may be diving to take underwater photos at Blue Heron Bridge, or a day may be spent hanging out with horseshoe crabs."
Nick says his favorite parts of the internship have been hanging out with those horseshoe crabs, through their monitoring and tagging project, and learning how to scuba dive.
"This has been a dream of mine for a very long time, and I am so happy I was able to get certified," exclaims Nick.
After his internship wraps up, Nick plans to pursue a masters degree in marine science.
Michaela Stenerson
Michaela's hometown is Grove City, Ohio. In 2021, she graduated from Taylor University with a Bachelor's of Science in Sustainable Development. She has a passion for photography and loves to learn new things about the natural world, which she shares through her photography website and newsletter.
While in school, Michaela first heard about the faith-based conservation organization, A Rocha, and was intrigued to know more. She was referred to the marine program by an A Rocha employee who she had chatted with about another position.
"When I first learned what it would entail, it sounded like a dream position and, truly, it has not let me down yet," said Michaela.
"A typical day involves time to work on the computer in some capacity: editing photos, putting together story maps, working on our biodiversity report where we are figuring out what species are here, which are vulnerable or endangered, and which of these are not yet getting conserved or studied just yet," says Michaela. "It also looks like some kind of outing that generally involves volunteering with a local project like tagging or monitoring horseshoe crabs, monitoring clams or oysters, and every now and then, scuba diving and snapping photos to tell conservation stories. And to end the day, a nice dip in the ocean is not uncommon."
Like Nick and Allison, Michaela echoes that she has most enjoyed learning about underwater photography and getting scuba diving certification.
"I have learned to scuba dive, improved my ecological literacy of marine environments, learned what hands-on conservation of species looks like, day-to-day, and improved my skills in photography and storytelling," states Michaela. "Photography has been a passion of mine for years and something I love to do for fun, so having it challenged and strengthened in this new way has been very enjoyable for me."
In March, Michaela will be spent a couple of weeks in Southern California, working with program director Mark McReynolds.
"Bob has encouraged us to reach out to other A Rocha folks to learn from them and hear what their path in the world of conservation as a Christian has looked like," explains Michaela. "Mark McReynolds has been doing similar work as us in microplastics in SoCal in addition to some other kinds of work like environmental education programs and bluebird box monitoring which are of particular interest to me. I am hoping to build on connections with the greater A Rocha family through this visit and support the work of A Rocha SoCal while I am there. I am looking forward to it!"
After the conclusion of her internship, Michaela plans to find more opportunities in field biology, science communications, and community environmental engagement.
"Truly, this internship has been a blessing for me, not only on an academic and professional level, but a personal and spiritual one," states Michaela. "Anybody looking to gain skills and experience in science communication and marine conservation would be lucky to be part of this experience in the future."
The Internship Program in Titusville runs from September through May every year. New this year, we are expanding the internship to also include Central Texas. We are accepting applications for the 2023/2024 Conservation and Community Engagement Internship until April 30.
Sign up for our newsletter or follow us on social media to engage and stay in touch with A Rocha USA.
Check out these Fun Facts from the Marine Conservation Interns!