By Pip and Will Campbell-Clause*
We celebrated the New Year with about 3000 students from over 40 countries at Mission-Net in Germany, entering 2014 dancing and worshipping God with Andy Flannagan and band as they sang songs proclaiming the good news for all creation! It was a rich time, full of exciting conversations with passionate people, many of whom were surprised and excited to see that a Christian conservation organization like A Rocha exists. There were some profound times of prayer too, and a particular highlight was praying for the Amazon rainforest with a Brazilian law student who is eager to be actively involved in protecting that precious biodiversity hotspot.
However, as Dave Bookless opened one of our seminars with a brief but shocking overview of the state of the planet, I was a little overwhelmed by the fact that A Rocha was the only organization focused on creation care amidst hundreds of exclusively people-focused charities at Mission-Net. Anyone who's been involved with A Rocha for even a short time has probably become accustomed to being a lone voice at these events (and in the wider world too), and I found myself repeatedly asking, "why is it that there aren't more Christians acting on creation care/ecological mission yet?" After all, according to Romans 8:19, 'the creation is waiting in eager expectation for the children of God to be revealed'. Given the unprecedented ecological crisis we now face, and how few Christians appear to be actively engaged in the care of creation, I couldn't help thinking that 'Mission Impossible' seemed a pretty apt description of our current state of affairs!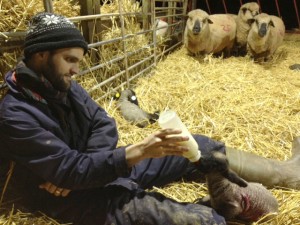 Back in the UK where I am working with a small organic farm in Somerset, trying to build a market for our (top notch) produce, I sometimes find it hard to avoid thinking similarly. In this context, it often seems that the farm's mission to create sustainable livelihoods through small-scale organic farming businesses is outright impossible in the face of supermarket dominance. Indeed, although Tesco is currently wallowing in self-pity after a drop in Christmas sales, they still look to make over £3bn in profit in 2013. In fact they take about 30% of the nation's grocery spend, and of course, they want to expand! Small-scale farming, and independent, locally accountable businesses are having the life kicked out of them as this supermarket business model spreads its powerful tentacles into every field and high street in Britain. As farms get bigger and bigger, there are of course fewer people on the land meaning that rural communities suffer. As supposedly more efficient "factory farms" replace good animal husbandry, God's creatures are abused. And with each new supermarket that opens, the result is fewer independent businesses, and less money staying in the local economy! This is not just in the UK either…
I long for a transformed, honest food system in which there will be an end to economics characterized by "skimping the measure, boosting the price and cheating with dishonest scales" (Amos 8:5), a food system where "everyone will sit under their own vine… and no one will make them afraid" (Micah 4:4). Yet the supermarket mantra of "get big or get out" certainly seems to be winning the war right now, and our mission here appears to be "impossible".
But is it?
The answer, I think, is a bit of a "Yes" and "No" answer, and is completely about how we understand "mission".
If, on the one hand, we believe we have to "save the planet" or "transform the entire food system" then yes, we are faced with an impossible task, and we are very likely to crash into a pit of despair if we carry the weight of it.
If however, we understand mission to be primarily a response to God, then results become secondary to obedience and faithfulness. We carry on in hope for transformation, but in spite of the insuperable challenges! We do so in trust that, "with God all things are possible". Being faithful to our Creator (who made all things, loves this earth and calls us to look after it) however foolish or insignificant it looks in the face of the "impossible outcomes", means I think that we are also much more able to continue our work, and encourage others along, in spite of the challenges.
And so I continue to hope for more people to take creation care seriously, and of course I push onward in working for a transformed food economy back here on our patch.
How will you live faithfully, and not be overwhelmed by what appears impossible?
*Pip and Will Campbell-Clause live in Bristol where Pip is undertaking her Theology PhD looking at Food Ethics and the Eucharist and Will is working with a small organic farm. Pip and Will seek to care for creation in an urban context with a particular emphasis on sustainable food and farming.