Advent and Christmas remind us that the Christ-child came to bring peace. We remember that we need peace with God and that His birth, life, death and resurrection makes that possible. We also remember that we need peace with our neighbor. But does Christ's birth have anything to do with bringing peace between us and animals? In this case, does the advent of Christ mean goodwill to manatees?
There are only about 6300 manatees left in Florida, though this is an increase from 1267 in 1991[i]. The species in Florida is known as the American Manatee or, more commonly, the West Indian Manatee (Trichechus manatus)[ii].
What do these numbers mean? There are many ways in which to prioritize and assess conservation status for species. One widely used tool is the IUCN Red List. Experts utilize historical and current research on population size, species biology, habitat use, and threats, among other metrics, to judge how endangered a species is globally. West Indian manatees are judged to be Vulnerable, which is one step before endangered. The United States, using a different system has listed the manatee as an endangered species.
Loss of warm water habitat, red tides, and watercraft-related injuries are the primary causes of manatee mortality in Florida[iii]. There is really good conservation work going on, and populations seem to be going up, but that is for another blog.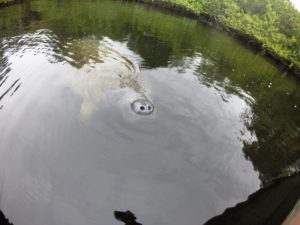 I write this sitting beside Weeki Wachee Spring (no, I didn't stay for the mermaid show!). Signs for boaters here say "Slow, no wake. Manatee zone."  Though there are still too many manatee deaths due to boat collisions, laws limiting speed in certain areas has helped populations to increase.
When we slow down from our haste to get to the next place, we not only decrease the chance of running over a manatee, but we also get a chance to see the gently swaying seagrass, the mullets schooling, turtles sunning themselves, and maybe even a cheeky alligator or two. It will take us longer to get to our destination, though.
We all know we should slow down from time to time – we need a Sabbath rest. Maybe it is idealistic, but I don't think the whole of Christmas season has to be lived at a frenetic pace.
If we slow down, there is a real and likely danger we will not finish something or not be able to do as much as others or as we'd like to, but perhaps there is higher probability that we will protect something very valuable and see some things along the way we would have missed.
 Resting from our consumerism, drive to accumulate, and rush to get from place to place will reduce our impact on our world. In advent, we wait. That waiting can bring us peace – peace that Christ gives us, not based on how much we have or can buy. That is good news for us – and for all species.
Christ's birth reminds us about peace. In her book, Just Living, Dr Ruth Valerio states that this peace is "peace with God, peace with others and peace with the wider creation."
When we slow down—buy less, consume less, give more—Christmas truly is peace on earth and goodwill to manatees.
---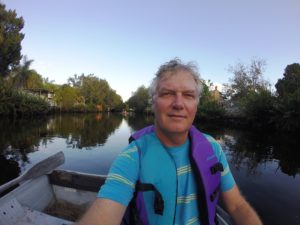 About Dr. Robert Sluka: I grew up loving the ocean – despite spending my first 18 years of life in Detroit.  Starting diving at age 13 and degrees in marine biology from University of Miami convinced me that a life lived studying the ocean was for me.  I am working towards a life that integrates my Christian beliefs and love of the ocean in a way that brings blessing to people, nations, and the planet.  I am Lead Scientist of A Rocha International's Marine and Coastal Conservation Programme (www.arocha.org/marine) and am an associate of the Faraday Institute for Science and Religion.
---
[i] https://www.fws.gov/news/ShowNews.cfm?ref=u.s.-fish-and-wildlife-service-to-reclassify-west-indian-manatee-from-&_ID=35428
[ii] There are two subspecies of manatees roughly equating to the Florida population and the Antilles population.
[iii] Status and Threats Analysis for the Florida Manatee (Trichechus manatus latirostris), 2016
By Michael C. Runge, Carol A. Sanders-Reed, Catherine A. Langtimm, Jeffrey A. Hostetler, Julien Martin, Charles J. Deutsch, Leslie I. Ward-Geiger, and Gary L. Mahon. https://pubs.er.usgs.gov/publication/sir20175030