Over the next few weeks, a few of us here at A Rocha will be posting a series of short meditations on waiting in God's creation as we prepare for the celebration of Christmas.
By Robert Campbell
Our new year begins before the rest of the world. That is, the Christian season of Advent does not begin with the turn of the Julian calendar. We do not celebrate the great god Janus opening a new door and a new year. Rather, we celebrate the great God Jesus who was long at work setting things to rights before Janus ever found the doorknob. Advent starts our year and shapes our lives as the people of God.
Beginning with Advent shapes a very different kind of people than those who follow the lead of the school year or the sports season. I like to say that one who spends Sundays in worship will be shaped into a different person than the one who spent those same Sundays on the ball field. Those two will be as different as the one who spent the time on that ball field will be from the one who spent the time on the couch, watching someone else on the ball field.
Advent initiates a new year for Christian people and it all begins with waiting. We wait for the feast of Christmas. We wait for peace on earth. We wait for the Kingdom to come on earth as it is in heaven. We are a waiting people, we are an Advent people. And so we wait.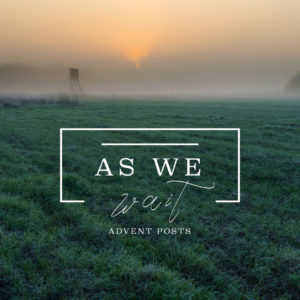 We wait…like the farmer waits for the precious produce of the soil (James 5:7), James writes after warning those who are rich about the dangers of luxuries. Advent makes us wait for the luxurious fruit of our own work and for the even more glorious fruit of the work of Christ.
When we plant seeds in the spring, we practice waiting. And we learn an important theological lesson. Depending on the type of seed, it could be a week or even two before the smallest sprout shows above the soil. But, God is active while we are waiting. He is active bringing life out of death. That seed, which we put in the ground, is planted with one kind of body and rises with another. So, the Apostle Paul can say with confidence, that which you sow does not come to life unless it dies (1 Cor. 15:36). He concludes by way of analogy:
So also is the resurrection of the dead. It is sown a perishable body, it is raised an imperishable body; it is sown in dishonor, it is raised in glory; it is sown in weakness, it is raised in power; it is sown a natural body, it is raised a spiritual body. If there is a natural body, there is also a spiritual body. (1 Cor. 15:42-44)
Advent is a time of waiting, but it is not inactive waiting. God is acting in Advent. He is bringing life where there is now death. He is bringing light where there is now darkness.
Robert Campbell is a member of A Rocha USA's Board of Directors. He also pastors a faithful and healthy church serving the people and place of Santa Margarita, California. He has earned degrees from Biola University, The Master's Seminary, and a Doctorate of Ministry from Trinity Western University.