By Autumn Ayers
What in the World is a Nurdle?
That's the first question I hear from beachgoers when I attend one of A Rocha's nurdle cleanup events. They wonder if it's a baby turtle, or maybe an exotic candy; sadly, the truth is much less cute. When I first began volunteering with A Rocha USA in SoCal, I was largely unaware of marine conservation issues, but I had a love for God's creation that was formed by my childhood in the Colorado Rocky Mountains. While I enjoyed playing and relaxing at the ocean now and then, I spent most of my life about as far away from the coast as one can be in the U.S. As soon as I connected with A Rocha, though, my growing awareness of threats to marine ecosystems deepened my love for the ocean and the creatures who live there.
In my first conversation with Dr. Mark McReynolds—A Rocha USA's SoCal project director—he exclaimed that he was going nurdle hunting over the weekend. 
"Very cool!" I said, confused as to why this conservationist would be hunting for anything. 
"Do you know what a nurdle is?" he asked. 
"Not at all."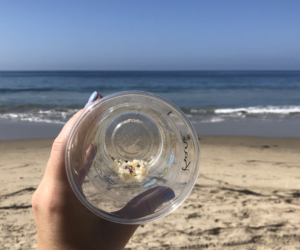 Graciously, he explained. Nurdles are small plastic pellets about the size of a lentil or a fish egg (more on that later) that
are melted together to make the plastics products we use everyday. "Countless billions" are produced each year. 
Once you know what a nurdle is, and once you see them for the first time all over sandy beaches, you'll never be able to unsee them. Every time I go to the beach, I can't help but notice nurdles everywhere, and I compulsively clean them up. When I see the pesky little pellets in their refined form—in laundry detergent bottles, water bottles, and other plastic products—I can't help but visualize them polluting waterways and oceans. 
The Problem of Nurdle Pollution
So how do nurdles end up at the beach? They are easily spilled during production, transport, manufacturing, or when plastic products are recycled back into nurdles. Since they are small and inexpensive, there is little incentive to clean them up. Nurdles float in water, so they often end up in storm drains where they wash up along streams and oceans. 
Where I live in California, nurdles are the most common type of plastic debris impacting Orange County beaches. They can also be found in our freshwater sources such as the Los Angeles and San Gabriel rivers, both floating on the water and buried in the sand. The same is true all over the world, including Florida, where A Rocha USA's marine conservation program is headquartered. The problem is enormous: about 60 billion pounds of nurdles are manufactured annually in the United States. Globally, it's estimated that over 250,000 tons of nurdles end up in the marine environment each year. Confronted with such an unfathomable number, I feel a weight of helplessness.
All of these nurdles have weighty effects on marine ecosystems. When they wash up on beaches or float in the water, they can severely harm marine wildlife. Because of their size and color, they can be easily mistaken for eggs: fish, birds, and other marine animals eat them, which can lead to disastrous results. Nurdles don't just pass through an animal's digestive system; when they break down into smaller microplastics, they can "move out of the gut and into the bloodstream and other organs" where they can cause inflammation and organ damage. If nurdles get trapped in an animal's stomach, they may face starvation or even death.
Nurdles can also contain significant amounts of toxic chemicals, which they absorb during production or later on from landfills and ambient seawater. When consumed, these chemicals can be observed in an animal's tissues, resulting in harm to immune function, growth, and reproduction. For example, fish exposed to microplastics have been found to reproduce fewer offspring, and that generation also reproduces less, even if they are not directly exposed to microplastics. This indicates that harmful effects from plastics can linger for generations. For species already struggling to survive against climate change, chemical pollutants, and overfishing, microplastics may be the last straw towards collapse. 
Over time, nurdles weather and fragment into smaller and smaller (even invisible) microplastics which animals lower in the food chain—such as plankton—can ingest. Even the land itself is affected: microplastics on the beach can change the temperature and permeability of sand, which affects the animals that live there. 
Further up the food chain, larger marine mammals and humans are harmed by this pollution. When we eat seafood or other animals that have consumed nurdles, toxic microplastics enter our bodies, as well; this is in addition to our inadvertent consumption of microplastics through water, clothing, and air contaminated by plastic. If the microplastics are tiny enough, they can enter the bloodstream and lodge deep in the lungs, causing a variety of health issues.

When considering the sweeping consequences of our plastic addiction, it becomes easier to see how overusing convenient plastics is not a harmless act but one that inflicts destruction on God's creatures, lands, and waterways. It's time to change how we use plastic products and manage plastic waste as a crucial act of love towards our human and non-human neighbors.
What Can You Do? 
Despite these dire truths, we are not helpless: let's imagine a kinder and gentler way to live alongside marine environments. Reducing the production and use of plastic, and cleaning up litter is an effective place to begin. Here are some ideas to help get you started:
Replace single-use plastics wherever you can in your daily life with reusable alternatives: remember that those plastic straws, forks, and cups will long outlive you!

Support restaurants and shops that choose to reuse.

Clean up and properly dispose of litter when you see it! Use

A Rocha's Litter Cleanup Guide

if you want to organize a cleanup in your community.

Join A Rocha USA's Love Your Place community to connect with others and get resources on living out caring for creation in your daily life.

Get informed about local and state issues around plastic pollution. Hold consumer goods companies accountable to provide realistic alternatives to plastics and encourage legislation that helps keep our waterways plastic-free.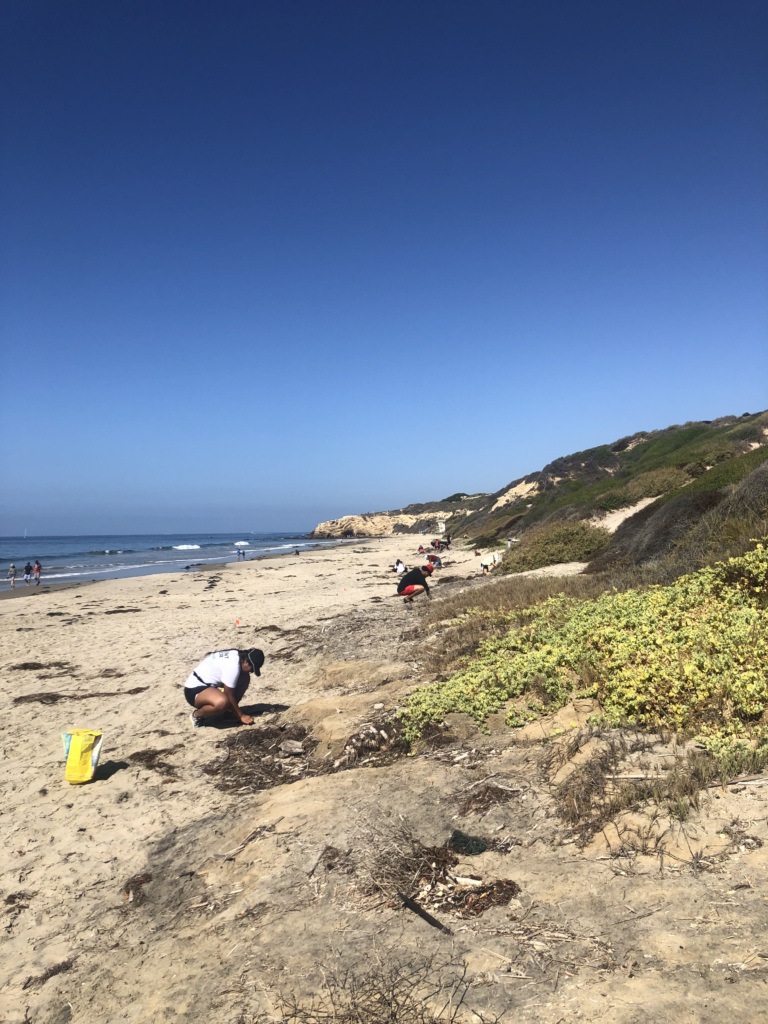 What Does A Rocha Do?

A Rocha is tackling plastic pollution head-on through our Marine Conservation Program. Driven by science and theology, we study, protect, and restore marine habitats. Working worldwide from Watamu Marine National Park in Kenya to the Alvor Estuary in Portugal, A Rocha's projects are focused on the UN's Sustainable Development Goal 14 to "Conserve and sustainably use the oceans, seas and marine resources for sustainable development."
In Florida, we are conducting research on microplastics and biodiversity at the Indian River Lagoon and coastal marine habitats led by Dr. Robert Sluka. Alongside research, we host periodic nurdle hunts throughout the year—namely, during the Great Global Nurdle Hunt—where we gather a large team to spread out along the beach and collect as many nurdles as possible in a ten meter plot for ten minutes before moving on to the next stretch. Because of this systematic approach, we are able to collect and submit data to Fidra's Great Nurdle Hunt, which shows nurdle pollution across the world.

Where I live in SoCal, each month we can be found at Crystal Cove State Park conducting research on the abundance and distribution of microplastics along the shore. This data will be used for education about plastic pollution and its harmful effects and will provide a baseline for understanding changes in the future. In describing the importance of this research, SoCal project director Mark McReynolds explains, "If we're not aware of how big the problem is, we're not going to be very interested in fixing it." 
We're already seeing the fruits of this education: while conducting research, we get to speak with many inquisitive beachgoers, explaining the problem of nurdles and microplastics, the actions people can take, and our motivation as followers of Jesus to care for all of creation. One of my favorite moments was when a mother with her two sons asked about our research and then asked her sons what they thought they could do to protect sea creatures from nurdles. In these moments, I feel hopeful that beaches, oceans, and marine creatures will become as beloved to all of us as they are to God.