by Lizzy Ranheim
"We lament the broken relationships, attitudes, and systems that lead to oppression, suffering, and death of God's human creation" – A Rocha USA statement, June 2020
As our world aches from pervasive disease and injustice, we long for true wholeness and peace. It can be challenging to know where to start, but if Christ is making all things new, we have abundant opportunities to join in His restoration of all places and people. This work engages every aspect of life, including what we eat. One way to move towards restoration of our places is by focusing on our food.
How is Local Food Loving?
Our communities' wholeness—physical, emotional, economic, environmental, and spiritual—is deeply intertwined with food systems. While this interconnected system feeds us, it can also breed injustice and degrade creation. Chemical exposure and spiraling debt plague many farmers in conventional systems. Dominant industrial farming practices contribute to disease, biodiversity loss, and reduced topsoil (where most beneficial biological activity occurs). Low-income populations and communities of color often live in areas with more agricultural pollution and less access to healthy local food. Poor nutrition has been shown to contribute to chronic illness. When Covid-19 disrupted the national supply chain, food banks struggled to stock shelves while many farms dumped milk and buried produce. To put it plainly: harmful food systems produce widespread damage.
On the other hand, just food systems cultivate widespread restoration. When we embrace sustainable local food practices—like those promoting biodiversity and minimizing chemical use—we not only care for the farmers and land, but also love our neighbors and world.
Restoration through Local Food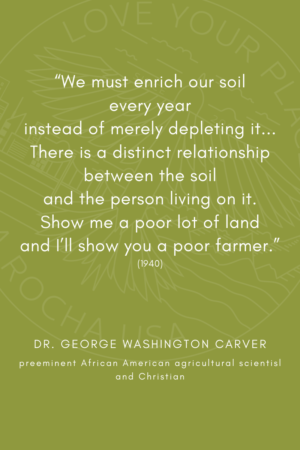 Here are a few ways that sustainable local food helps restore our communities and ecosystems:
By no means is this an inclusive list! Through modest but meaningful change, we can eat our way to a more beautiful and just world.
Where to Start
Here are 3 things you can do to start your local food journey this summer:
1) Plan a visit to a farmer's market
2) Get to know your local farmers
3) Ask and learn about farming practices (be kind and curious)
For more educational resources, community engagement, and discussion, check out A Rocha's Love Your Place membership program.
Lizzy Ranheim is a self-proclaimed science nerd, outdoor enthusiast and sourdough baker. After completing her Family Nurse Practitioner training at Vanderbilt University, she has since spent time working and camping across the country with her husband. She also holds a BA in Human Biology with a concentration in Global Health and Infectious Disease from Stanford University and thinks microbes are awesome. Lizzy loves learning about the interconnectedness of creation, restoration, and human wholeness.