During this season of Lent, A Rocha USA is hosting a series of posts on the theme of waiting, resurrection, and creation care, using the hymn "Now The Green Blade Rises" as inspiration. Full text of the hymn can be found here.
This beautiful hymn first appeared in the Oxford Book of Carols in 1928, with text by John MacLeod Campbell Crum and music taken from the ancient French carol Noël Nouvelet. Crum served in the Church of England in various roles between 1897 and 1943 and also wrote books, theological works, and hymns for children (1).
While firmly centered in biblical concepts and passages, this hymn speaks to our imagination in the way it combines three different ideas. The first and primary idea is the Easter story, centered on the laying of Jesus in the grave, dark and cold, not knowing that the unthinkable – unimaginable – would happen in only a short time. The second idea is a direct parallel of the first, with a grain of wheat sleeping unseen in the ground, dark and cold, waiting to spring up from the earth in the form of a single blade of green. The first three verses play with these parallels in different ways, with the third verse centered on the resurrection itself.
The third idea, fully developed in the final verse, brings the whole story into the present and speaks of the power of Jesus's love to bring about resurrection in our own lives and our own hearts. This final verse also clarifies the use of the word "love" for the idea of grain in the earth as well as the idea of Jesus in the grave. With "Love is come again," we are reminded that Jesus – who is love – is here, just like the grain in the earth.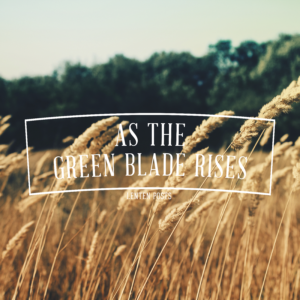 Crum, who experienced tragedy in his own life, with this hymn created a complex set of ideas that come together in a profound way. As we sing this hymn during the season of Lent, we are reminded that however dark and cold our lives may seem, the Holy Spirit is already here, just waiting to be seen. We need look no further for this truth than the seeds that sprout up from the earth every spring.
C. Michael Hawn. "History of Hymns: Now The Green Blade Rises." UMC Discipleship Ministries.