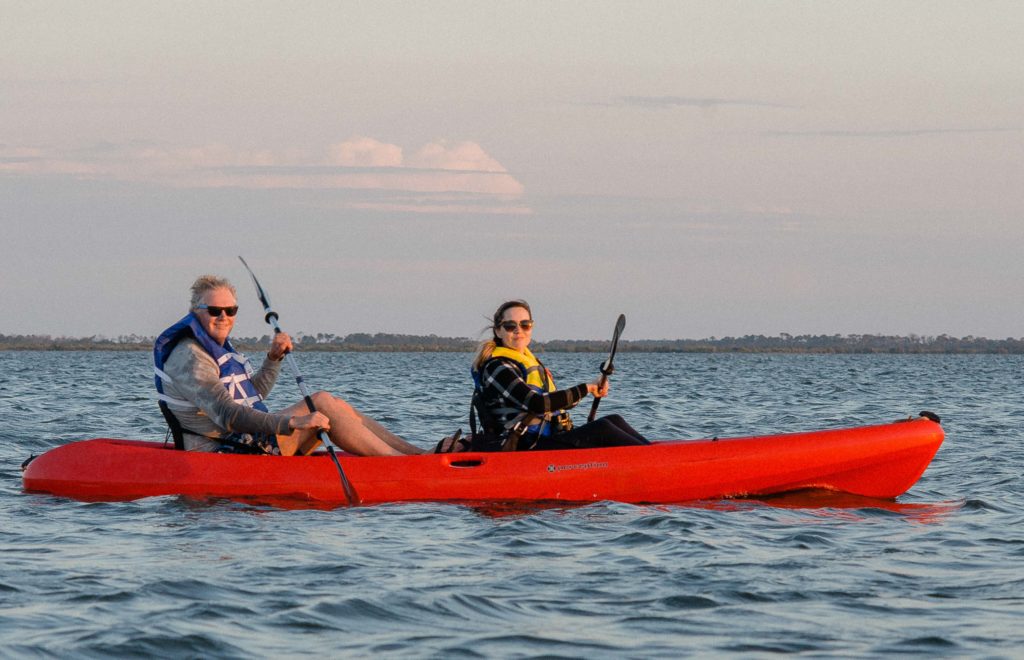 We are excited to welcome Dr. Robert Sluka, head of A Rocha International's Marine and Costal Conservation Program, to the A Rocha USA team as he begins a new conservation project on the Space Coast of Florida. We caught up with him to hear more of his story and vision for this project. 
In a few sentences, tell us about your place. Who is there? What are the needs and hopes where you are? Why this place?
The Space Coast of Florida is known for beautiful beaches, the biodiverse Indian River Lagoon, proximity to Orlando and, of course, Cape Canaveral and our space program. It is a growing area of Florida that has changed dramatically over the past 150 years. Now home to 1.5 million people, the watershed of the Indian River Lagoon is the drainage point for inland rivers and lakes, bringing in muck and nutrients into a once clear and productive lagoon. We are situated at the border of the temperate and subtropical zones, so biodiversity is particularly high. Cape Canaveral National Seashore and Merritt Island National Wildlife Refuge protect important habitats and iconic animals such as sea turtles, dolphins, and particularly manatees.
People come to Florida with a certain vision of what life will be like. Sometimes it is like that! We love taking the kids to the ocean before school, riding waves (once a dolphin popping up next to us), and then arriving at school a bit salty and sandy. But it is also a place of spiritual and physical poverty. We want to be a part of the restoration of this area and share Christ's love so that both people and places are transformed. Not necessarily living the Florida dream, but a life full of hope, faith, and love. The abundant life that Christ promised.
What are your project's goals and vision?
The project is just beginning and we are getting to know all those who are already working so hard to protect and restore this beautiful place. The needs are great with constant pressure for development and expectations for lives that are unsustainable. We definitely want to play our small part in the Indian River Lagoon restoration. Like all beaches in the world, there is a problem with plastic pollution, and we will help in beach cleanups and researching microplastic issues. We also would like to study some of the lesser known biodiversity that makes this such an interesting place. We are praying and researching now to develop those goals and visions. A Rocha has a global marine conservation program, and so we will fit into these larger programs with our own twists on it.
We aim to be a good partner, cooperating and collaborating with others and finding our niche in time. We hope that we will develop a field study center that can provide opportunities for interns and ordinary folk to experience this amazing place and connect with God through it.
Why is this project important to you? How did these passions first show up in your life? What first drew you to conservation work?
I studied marine conservation at University of Miami – mainly because I love the beach and diving. It wasn't until much later, connecting with A Rocha in the UK while we lived there, that I began to develop an integrated view of my faith and science. I volunteered locally in the UK initially in a national park near our village studying juniper trees. Then I led some biodiversity surveys at partner projects in Wales. A trip to Kenya introduced me to the A Rocha team there, and they asked me to help them develop their marine program which has flourished through local and foreign interns, students, and staff. I began volunteering to help A Rocha begin to develop marine conservation work globally. We initiated what is now our Ocean of Plastic project at A Rocha's France's field study centers, again with the help of dedicated volunteers, interns, and local staff. Marine conservation is always team work! While there is a lot of marine conservation work in the USA and other North American/Caribbean countries there is essentially none that is faith and research based. We moved to Florida for family reasons primarily after 21 years abroad. Our hope is that the Space Coast A Rocha program will be the first of an ever expanding group of projects that holistically integrate faith and science to care for both people and place, sharing the love of Christ through our projects.
What do you think will be the hardest part of this project?
We don't know yet! We need to gather a team, solidify our vision and goals locally and how that ties into national and international programs, and keep working hard in a place that seems to grow each day, putting more and more pressure on resources and people.
What books are you reading right now?
For novels, I just finished A Wizard of Earthsea and am now reading Jonathan Strange & Mr. Norrell. I am also digesting Prof Michael Northcott's classic The Environment & Christian Ethics to think through how this applies to marine plastic pollution. My friends Meric Srokosz and Rebecca Watson wrote a great book combining theology and marine science called Blue Planet, Blue God which is amazing as it goes through almost all passages in the Bible on the ocean – and you would be surprised at how many there are! Finally, my wife gave me a few years ago a nice bound copy of the Psalms. That has been my constant companion through many difficult times these past months and years.
What is your favorite breakfast cereal?
Lucky Charms – though I prefer savory rather than sweet breakfasts, particularly Asian noodle dishes and south Indian breakfast.